Skip to Main Content
It looks like you're using Internet Explorer 11 or older. This website works best with modern browsers such as the latest versions of Chrome, Firefox, Safari, and Edge. If you continue with this browser, you may see unexpected results.
Database Articles and More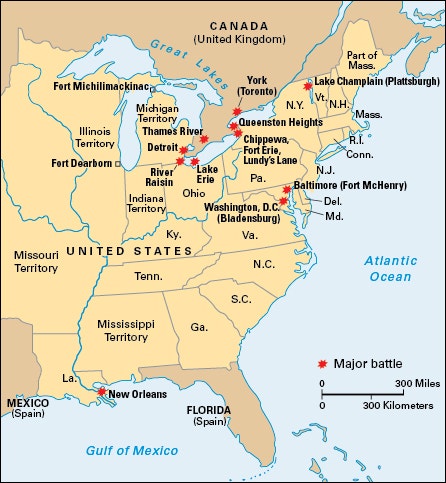 World Book map
War of 1812: Major Battles
(Home Article: War of 1812)
The War of 1812 was fought mainly in the northern United States and southern Canada. This map shows where the major land and water battles took place.
Scholastic News 5/6; May 7-14, 2012; Lexile Measure: 910; Grade Levels: 4,5
"Almost every student knows why the colonists fought the American Revolution: to win their independence from the British. But fewer know why the two nations went to war again less than 40 years later. Today, the War of 1812 is largely forgotten." (Scholastic News)
Washington Post; Jun 10, 2012; Lexile Measure: 1040; Grade Levels: 6,7,8
"You know the words....You've sung them before a baseball game or at a swim meet. They're part of our national anthem, also called 'The Star-Spangled Banner.' You probably also know that Francis Scott Key wrote them. But do you know when and why? Key's inspiration was a battle during the War of 1812, which started 200 years ago this month. It's often called 'the forgotten war' because it isn't studied much in school. But the War of 1812 played a big role in helping the United States grow up and become more than just a collection of states." (Washington Post) Learn more about the "The Star-Spangled Banner" and the War of 1812.
Interactive Websites


Video
This web site, "1812 experience", is made up of numerous articles, extensive links, and the largest collection of War of 1812 images on the internet. Event listings, news and unit web sites dealing with the exciting reenactment hobby can also be found here. Make your computer come alive with the sounds of the past by visiting our sound clip gallery. Test your knowledge of the War of 1812 by taking one of our quizzes. Finally for the armchair general we provide unique animated battle maps that give you a quick understanding of a particular clash of arms during the war.
Languages: English
Lexile: 1360
Subjects: United States--War of 1812
Grade Level: 6-8, 9-12


Interactive
In May 1812, America is on the brink of war. James Madison explains the issues and invites you to participate in the debate over whether the U.S. should go to war with Great Britain. Listen to the different perspectives of eight Americans as they talk about the possibility of going to war. Click on the button below the images of the Americans to further examine the issues. You can cast your vote and then look at the voting results.
Languages: English
Lexile: 740
Subjects: United States--War of 1812, Madison, James
Grade Level: 3-5, 6-8